When it was evening on that day, the first day of the week, and the doors of the house where the disciples had met were locked for fear of the Jews, Jesus came and stood among them and said, "Peace be with you." After he said this, he showed them his hands and his side. Then the disciples rejoiced when they saw the Lord. Jesus said to them again, "Peace be with you. As the Father has sent me, so I send you." When he had said this, he breathed on them and said to them, "Receive the Holy Spirit. If you forgive the sins of any, they are forgiven them; if you retain the sins of any, they are retained."

But Thomas (who was called the Twin), one of the twelve, was not with them when Jesus came. So the other disciples told him, "We have seen the Lord." But he said to them, "Unless I see the mark of the nails in his hands, and put my finger in the mark of the nails and my hand in his side, I will not believe."

A week later his disciples were again in the house, and Thomas was with them. Although the doors were shut, Jesus came and stood among them and said, "Peace be with you." Then he said to Thomas, "Put your finger here and see my hands. Reach out your hand and put it in my side. Do not doubt but believe." Thomas answered him, "My Lord and my God!" Jesus said to him, "Have you believed because you have seen me? Blessed are those who have not seen and yet have come to believe."

Now Jesus did many other signs in the presence of his disciples, which are not written in this book. But these are written so that you may come to believe that Jesus is the Messiah, the Son of God, and that through believing you may have life in his name.    (John 20:19-31)
This last semester on the campus of the University of Rio Grande there's been a campaign that's designed to spur students to action. It's designed to get them to basically just take notice when those they're connected to have changes in their behavior and to simply ask, "Are you okay?"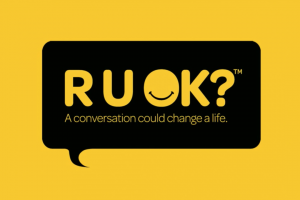 This was a campaign started in Australia, but it has spread over the globe. It's a simple idea. Folks are encouraged to notice when their friends, coworkers, loved ones—anyone, really—are behaving differently, and then take the small risk of asking, "Are you okay?" It's a conversation opener that can save lives if someone is struggling with physical, emotional, or mental health issues.
"Hey, I've noticed you've been late for work a few times this week and that's not like you. I'm not trying to get you in trouble… I just want to know: Are you okay?"

"You look really down today. Are you okay? Do you want to talk?"

"You seem like you're under a lot of stress. Are you okay? Is there anything I can do?"
This campaign is based on the understanding that we human beings are created for connection and relationship. But when we're under pressure, pushed to our limits, overwhelmed, or overcome by our depression, anxiety, stress, or pain, we sometimes need a reminder from those around us that we need each other. We need something bigger than ourselves. We need to be connected to the larger human family.
The Gospel lesson appointed for today is the same every year for the Sunday after Easter Sunday. Every year we hear the same passage from John about our beloved "Doubting Thomas."
"Blessed are those who have not seen, and yet have come to believe."

 "Do not doubt, but believe."
Every year we hear the same story about the disciples being afraid of the religious establishment (It's vitally important to remember that the use of the term "the Jews" in John's Gospel is about the Jewish authorities. John most certainly knew that Jesus and the disciples were also Jews.) Every year we hear about the disciples locking themselves in the upper room. And there's a lot of good reason for us to hear it every year. The pomp and the beauty of last Saturday night's Easter Vigil and Sunday morning's joyous celebration fade very quickly. Doubt, fear, and isolation can easily reestablish their hold. So, we need a reminder this morning that the resurrected Jesus—the one who turns the whole world on its head by proclaiming through word and deed that worldly powers are impotent compared to Love—that Jesus won't be held back by a locked door. That Jesus won't be defeated by fear and isolation. That Jesus won't be kept at bay by doubt or stubbornness. Jesus pushes through those barriers and shows up anyway.
Yes, we will be faced with fearful situations. Yes, we will be beset by doubt and isolation. Yes, we fill find ourselves stubbornly looking for proof before we'll allow ourselves to move forward. But Jesus is going to show up anyway! And when he showed up in that locked upper room, he breathed on them. "Receive the Holy Spirit," he says. Do you remember the first line of John's Gospel?
"In the beginning was the Word, and the Word was with God, and the Word was God."
In the beginning. The very first sentence of scripture, Genesis, chapter one:
"In the beginning when God created the heavens and the earth, the earth was a formless void and darkness covered the face of the deep, while a wind from God swept over the face of the waters."
One of the beautiful things about the Hebrew language  is its poetic flexibility. Single terms can mean many different things, depending on context and their historical interpretations. What we have translated as "wind from God" in many English translations has a lot of meaning. It is the Hebrew word ruach.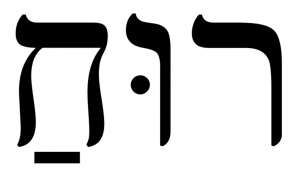 Ruach can mean wind, for sure. But it also can mean spirit and breath… the very essence and presence of the Divine.
"The Spirit of God… the Breath of God… swept over the face of the waters."

"Jesus breathed on them and said to them, 'Receive the Holy Spirit.'"
When I first saw this campaign, "R U OK?" the first thing I thought was, "That looks kinda like ruach!" The Spirit of God, the very Breath of God, is given to those disciples that day and it's what we believe continues to inspire us, empower us, and guide us. Jesus breathes on us; connects; pushes past fear, isolation, stubbornness, and doubt. We are not alone. He is risen. He is here.
And because we know that and experience it when we gather together and are connected and build relationships with each other, that same ruach inspires and pushes us to turn to each other. To turn to our families, our coworkers, to the person you see every morning when you're getting your coffee at the gas station, to your best friend and ask "Are you okay?"
The barriers that keep us separated from each other, isolated in our pain or fear, our depression or anxiety, are broken down by the resurrection. Are you okay?
Because Jesus is alive and has breathed the Spirit into our lives, we know that God pushes past all those barriers. So can we. We can risk turning to another beloved child of God. Are you okay?
Conversations, connections, and relationships change lives. And it's because of the resurrection that we know that to be real. Are you okay?
Ruach is breathed over us today. R U OK?
Yes… no… whatever the answer, we have the power of relationship and deep meaningful connection through Jesus. We have the ability and gift of pushing past barriers of isolation and fear to stay connected. No matter how we are, no matter what the answer to the question is, Jesus stays connected. And we stay connected.
Jesus asks you and me this morning, "Are you okay?" And no matter what the answer is, he will be there. He won't turn away. And we are given that same power. We turn to those around us and ask, "Are you okay?"
No matter what the answer is, we will be there for each other, we will be there for a world that hungers for relationship and meaning and connection.
Jesus said to those disciples, "Peace be with you. As the father has sent me, so I send you."
May it be so.
Amen.